Our Best-In-Class Soft Start For RV AC Units Lets You...
There Has Never Been Any Smart, Effective, Lightweight, Low- Cost Solutions To All These Camping Problems…Until Now.

Starting an RV ac soft start has never been easier and quieter with the SoftStartRV
See More 5-Star Testimonials Below

Advantages, Benefits & Features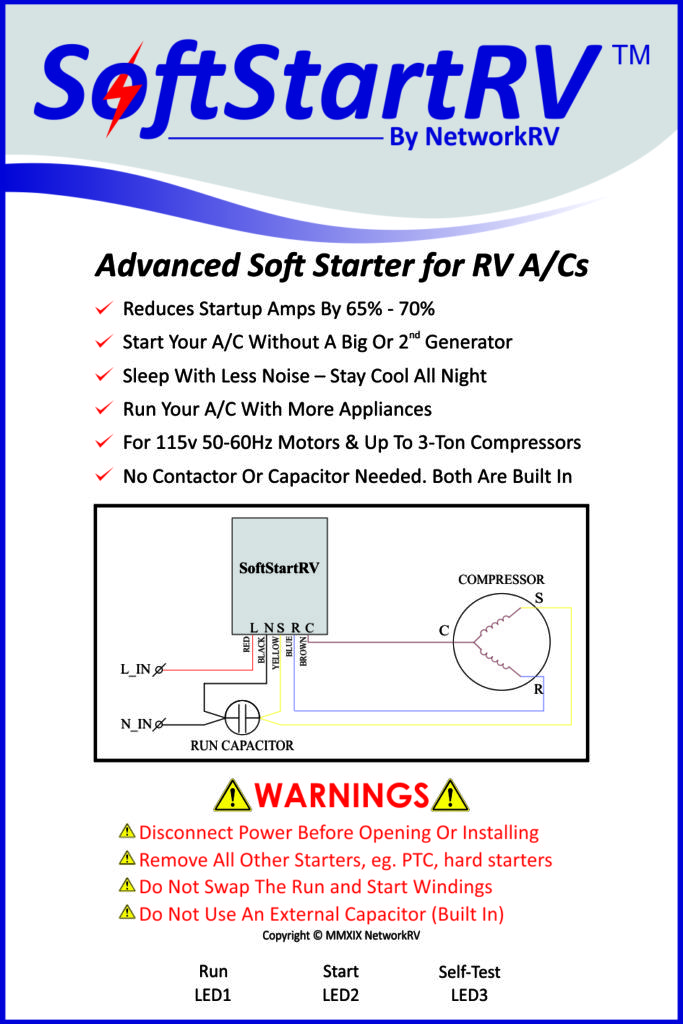 Technical Specifications for SoftStartRV™
Model #SSRV3T
Nominal Working Voltage: 110Vac (90~135Vac) / 220Vac (187~266Vac), single phase
Power consumption: less than 3W
Protection restart time interval: 3 minutes
Maximum continuous working voltage: 135VAC/266VAC
Maximum continuous working current: 18A
Over Current limit: 30A/1 minute
Maximum non-repetitive inrush current: 170A (<20ms
Maximum surge current: 120A (<350 ms)
Soft start-up time: 1±0.5s
Current consumption: 48mA (Capacitive 110VAC, 220VAC)
Operation hours: better than 45,000 hours (rated working temperature)
Effective soft start on/off service: >100,000 times (soft-start interval not less than 3 minutes)
Insulation resistance between housing and chassis: > 300 MΩ
Withstand voltage between housing and chassis: >3000 VAC in 1 minute
Shock resistance better than 200m/s2 and 11ms
Anti-vibration: 10~55mm(double amplitude, 1.5mm)
Protection restart time interval: 3 minutes
Working temperature: -40 to 85 ℃   (-40F to 185 F)
Working Humidity: 0~95% RH (<40 ℃)
Dimensions: 6.2 x 3.5 x 2.5 in. (158 mm × 90 mm × 66 mm.)
Weight: 1 lb.15 oz (0.88 kg.)
Suitable for single-phase 110V 1HP-1.5HP / 220V 1HP-3HP
Fully weatherproof& non-flammable plastic, reliable IP65 housing & factory sealed by resin
Supports 115V/50-60Hz motors, almost all A/C owners' benefit
RV ac soft starter
Starting your RV soft start ac has never been easier and quieter with the SoftStartRV: No more "thumps" and "trailer shaking" in the quiet of the night as your compressor kicks in. SoftStartRV reduces and eliminates that clunking compressor start-up noise… You, your family and friends sleep cool, quiet and restful…
Read what our customers are saying!
SoftStartRV is specially designed, engineered and tested for all RVs: Motorhomes, Fifth wheels, campers, travel trailers, toy haulers, truck campers, vans, and tiny trailers. The SoftStartRV reduces startup power demand by an amazing 70%. It's that good!