Our Best-In-Class Soft Starters For RV AC Units.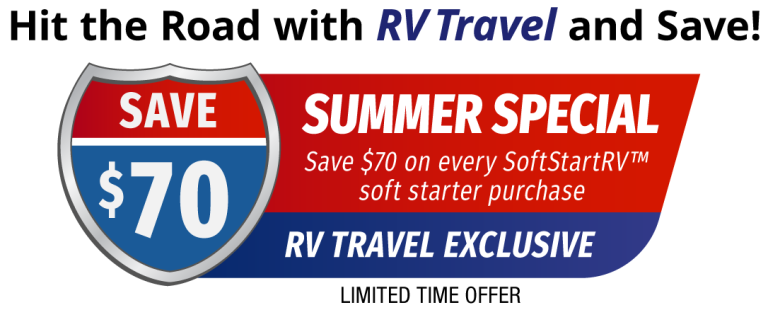 Eliminate low-power start-up issues for your

 RV A/C

 unit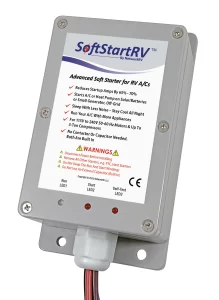 This product eliminates low-power RV A/C start-up problems for any RV AC unit on any rig.
It's 40% Smaller Than Any Other Soft Start!  So It Fits In The New Smaller A/C Units.
While SoftStartRV may not be the least expensive soft starter on the market, it is definitely the highest quality, most versatile, and most technically supported product. Our Best-in-Class approach to product quality and service make SoftStartRV products easier to install and more reliable to deliver years of uninterrupted A/C comfort.  
 Try it for 90 days. If you don't absolutely love it, return it for a full refund. We'll even pay for the return shipping.
Free Shipping in the U.S.A. (UPS) and Canada (DHL)

Free Returns – NO return shipping fees and NO restocking fees

A FREE 3-Year Warranty (similar products have a one-year warranty then charge for the second year)

FREE "live" Tech Support where you need it the most – on the roof! No one else offers our level of customer support.  Customers LOVE our support team

Soft Start Concierge Professional Installation Service available if desired (extra)
Start 2 A/Cs on a 30-amp hookup!*

40% smaller than all the rest!

Fits almost anywhere – especially in the tight space of new rooftop A/Cs

FREE 90-Day "Love It Or Return It" guarantee

Each purchase comes with 2 FREE GIFTS (a $27 value!)

A FREE Crimping and Wire Stripping Tool for our easy 6-step No-Cut, No-Splice installation

A FREE Installation Kit that our customers love. It saves them from trying to locate and buy the proper wiring connectors – it's all provided!
       * Requires 1 SoftStartRV per A/C unit
It Comes With 2 FREE Gifts:
An Installation Kit with all the screws and connectors you'll need, and a Crimping Tool with every purchase.
Benefits of Soft Starters