Our Best-In-Class Soft Start For RV AC Units Lets You…
Run Two Air Conditioners On A 30-Amp Hookup
Run One Air Conditioner Using Only A Small Portable Generator
Run One Air Conditioner On A 20-Amp Household Hookup
Run An Air Conditioner Or Two Using Your Onboard Inverter System
Special Offer

Normal Price: $329
Save $30 Pay Only $299
Risk Free 90-Day Money Back Guarantee Plus Free Shipping to USA and Canada
Save $60 On 2, Save $90 on 3, Save $120 on 4
There Has Never Been Any Smart, Effective, Lightweight, Low- Cost Solutions To All These Camping Problems…Until Now.
Starting an RV ac soft start has never been easier and quieter with the AllStartRV
No more "thumps" and "trailer shaking" in the quiet of the night as the compressor kicks in.</h3 >

Reduces and eliminates that clunking compressor start-up noise… Everyone sleeps cool, quiet and restful</h3 >

Specially designed, engineered and tested for all RVs: Motor homes, 5th wheel campers, travel trailers, toy haulers, truck campers, vans, and tiny trailers</h3 >

Reduces startup power demand by an amazing 70%. It's that good! You know space and weight are always a premium</h3 >

Small at just 6"x3"x3" and weighs just under 2 pounds.</h3 >
Performs perfectly at a great price.
I am very satisfied with my entire AllStartRV experience. It was shipped the same day I ordered it and I received it carefully packed. I found it surprisingly easy to install and it performed as advertised. Great to have A/C anytime, anywhere!
Brian C.
 5/5
See More 5-Star Testimonials Below
 5/5

Advantages, Benefits & Features
Starts RV A/C With a Small Generator (e.g. Honda 2200i )
Run 2 A/Cs On a 30-amp Hookup (with 2 units)
"Best in Industry" Warranty Included In Price
Small at just 6"x3"x3" and weighs under 2 pounds.
Free Shipping Anywhere In USA & Canada
Free Turnkey Install Kit, Screws, Tiles, Wire Caps, etc.
Free Web Install Videos, Guides, Directions
Tech Support "Live" Rooftop Installation Calls
3 Helpful LEDs Show Status: Start, Run, And Fault
Built-In Start Capacitor
Waterproof and Resistant Case
Free Tech Install Ticket Support System
Buy Your Soft Start RV. Feel Cool, Refreshed, Anytime, Anywhere!
Special Offer

Normal Price: $329
Save $30 Pay Only $299
Risk Free 90-Day Money Back Guarantee Plus Free Shipping to USA and Canada
Save $60 On 2, Save $90 on 3, Save $120 on 4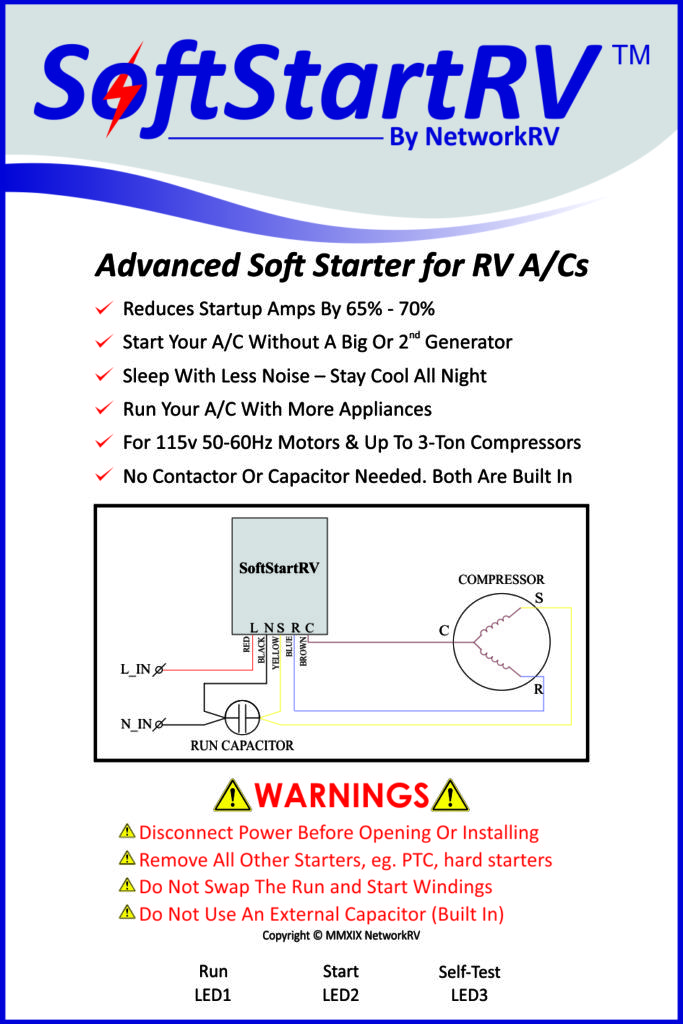 Technical Specifications for AllStartRV™
Model #SSRV3T
Nominal Working Voltage: 110Vac (90~135Vac) / 220Vac (187~266Vac), single phase
Power consumption: less than 3W
Protection restart time interval: 3 minutes
Maximum continuous working voltage: 135VAC/266VAC
Maximum continuous working current: 18A
Over Current limit: 30A/1 minute
Maximum non-repetitive inrush current: 170A (<20ms
Maximum surge current: 120A (<350 ms)
Soft start-up time: 1±0.5s
Current consumption: 48mA (Capacitive 110VAC, 220VAC)
Operation hours: better than 45,000 hours (rated working temperature)
Effective soft start on/off service: >100,000 times (soft-start interval not less than 3 minutes)
Insulation resistance between housing and chassis: > 300 MΩ
Withstand voltage between housing and chassis: >3000 VAC in 1 minute
Shock resistance better than 200m/s2 and 11ms
Anti-vibration: 10~55mm(double amplitude, 1.5mm)
Protection restart time interval: 3 minutes
Working temperature: -40 to 85 ℃   (-40F to 185 F)
Working Humidity: 0~95% RH (<40 ℃)
Dimensions: 6.2 x 3.5 x 2.5 in. (158 mm × 90 mm × 66 mm.)
Weight: 1 lb.15 oz (0.88 kg.)
Suitable for single-phase 110V 1HP-1.5HP / 220V 1HP-3HP
Fully weatherproof& non-flammable plastic, reliable IP65 housing & factory sealed by resin
Supports 115V/50-60Hz motors, almost all A/C owners' benefit
RV ac soft starter
What The Experts And Our Customers Are Saying…
https://youtu.be/iJqijovoMW0https://youtu.be/Iop-smv9zFUhttps://youtu.be/cYI089lw8K8https://youtu.be/x97lAdxsDRE
Get A FREE Additional Year of Warranty, By Registering Online
To recap, you get:
A AllStartRV Unit ready to install</h3 >

Installation Instructions</h3 >

Wiring Diagram</h3 >

Video links and Tech Support Contact Information</h3 >

Bonus Install Kit: screws, zip ties, twist caps, crimp caps, grommet, connectors</h3 >

1-year Manufacturer's Warranty with a special FREE offer to extend to a 2-year warranty</h3 >

90-Day Money-Back Guarantee Of Satisfaction – Buy It. Try It. Love It or Return It.</h3 >

$25 Referral Bonus</h3 >
Special Offer

Normal Price: $329
Save $30 Pay Only $299
Risk Free 90-Day Money Back Guarantee Plus Free Shipping to USA and Canada
Save $60 On 2, Save $90 on 3, Save $120 on 4
Starting your RV soft start ac has never been easier and quieter with the AllStartRV: No more "thumps" and "trailer shaking" in the quiet of the night as your compressor kicks in. AllStartRV reduces and eliminates that clunking compressor start-up noise… You, your family and friends sleep cool, quiet and restful…
Read what our customers are saying!
Works Great!
I was dubious as to how this product would work, especially considering the price. I have to say the sellers video and specific instructions for each make and model a/c made the install a piece of cake. This thing really works — you can't hardly hear the compressor when it kicks in. Very quite and seems to work perfect with my light weight 2200 watt generator. Highly recommend.
C. Marks
It really does work!
Running 13.5k AC off a single Honda EU2000 I was on the fence with getting one of these for quite a while, despite a lot of glowing reviews. It is a fair amount of money for an upgrade. But, with this new competitor to the "other brand" soft start and the double warranty, cheaper price etc, I decided to give it a whirl.
Larry E
Top Notch
The assistance from your technician Phil was top notch. Each step was described clearly and without error. I enjoyed my discussions, even after my phone quit and a time zone glitch, but everything went great. I now await warm weather to try my A/C unit out. I have already contacted two of my RV friends and told them about the soft-start add on. I believe they will follow up and modify their units. Thanks again for great service.
Joe Rose
Customer Service is there promptly when you need it, Thank you
Used on my RV at home plugged into a 15 amp service, I can run 1 ac to help keep it cool and moisture out! I had concerns with the wiring, contacted AllStartRV and Phil called me back, he helped me with every detail of the install, he was the best. Thank you AllStart and Phil.
Garrett M.
Tested Out And Working Perfectly
After receiving my two Softstart units I studied both the PDF and video instructions to find that my A/C units were not covered for any of the provided wiring instructions. I then requested help through the "Ticket Support". Shortly afterwards I was contacted by Phil and through his superb and patient direction I was able to complete the installation of both units. I am very pleased to say that both of my A/C's with the Softstart units perform as advertised. I am also pleased with the fact that I can now run one of the A/C's at my home on household 120v / 20 amp breaker with a HD extension cord and not have to rely on a 50 amp service. I am now looking forward to being comfortable whether I'm hooked up to shore power or my portable generator. Thank you again Phil.
P. Leddy
Great product with good installation instructions.
This shipped immediately and delivered in 2 days. Install was fairly straight forward. I have a Coleman Mach series unit and there are two possibilities for the start cap wiring…had to figure out what was really in the unit. Install took a little over an hour. It's too cold right now to give it a test run, but I don't foresee any problems.
Healthy Thinker
Great Product and Great Customer Support
I purchased this to be able to run my Lance travel trailer air conditioner using my Yamaha generator. I live at 7400 feet in Colorado and often camp at even higher altitudes, and the Yamaha balked at the start-up loads of the air conditioner. I installed the AllStartRV without any problems (I did call Brian at AllStartRV Support once – he returned my call immediately and gave great guidance). Now my generator handles the air conditioner easily! No more hot nights in my trailer wishing I could run the air! Great product and great customer support.
Mike
Installation was very simple on my mere year old 13.5k Dometic Brisk Air II.
NetworkRV has diagrams you can print out and follow, which really simplifies things. It took maybe 30 minutes to install. We fired it up on house 120AC just to make sure it was wired up correctly and working (it was). We then unplugged shore power and fired up our Honda EU2000. Initially we tried it on ECO, but it wouldn't fire it up. The delay from ECO to full power was too long and the generator got in a weird surge rhythm trying to supply enough juice. No big deal, I did not expect it to work on ECO mode. I am at over 5000ft elevation and Generators simply don't have as much power as at sea level. Try 2, we turned ECO off and then tried the AC again, it fired right up and worked great! We turned off the AC, gave it a few minutes for the AC head pressure to equalize, then tried it again. It started right up with zero problems what-so-ever!
Holy smokes I am impressed!
I feel at higher elevations, where generators loose 10% per 3000ft elevation (read that somewhere), a EU2000 is on the edge of powering my RV AC. I sold my pair of EU2000's I was using previously, and have now upgraded to a single EU2200i, just to give me that additional power boost when we are up at +8000ft elevation in the national forest on hot days.
Bottom line, IT ABSOLUTELY DOES WORK! We fired the AC right up on a single EU2000i. ?
I am so happy I don't have to lug around 2 generators, twice the space, twice the refueling etc etc. Very cool upgrade for sure. And very happy with the unit.
D. Christensen
Very impressed – great product!
Thanks for helping me stay cool. I purchased 2 AllStartRVs, one for myself and one for a friend. DIY installation was easy. The compressor start-up is very quiet now, no more 'THUMP'. My wife and kids don't wake up in the middle of the night. Before installing the AllStartRV on my friend's trailer, we tried starting his 13,500 BTU A/C using his single Honda EU2000i generator. With the Honda in ECO mode, the A/C fan running on low, we tried to start the compressor. The Honda went into overload and then disconnected from the load. After installing the AllStartRV, we performed the same test. The A/C started fine and the overload light on the Honda didn't even flicker. The AllStartRV should be standard equipment on all RV air conditioners. Thanks again for an amazing product.
Allison Van B
Excellent customer service!
Brian was very responsive and even stayed on my case after hours to help me with my installation. Once installed product worked excellent. Now the AC is even easier on my Honda EU2200I generator than my Microwave.
Brian K
Impressed
…SoftstartRV, is a device that starts your Air Conditioner without the big surge of power that bogs down your generator.  I bought one from NetworkRV.com on Amazon and installed it.  I can't tell you how impressed I was with Brian and his company. As we all know it isn't a perfect world, I had some questions and Brian was so helpful. This is when a company is tested and Brian and NetworkRV came through. I can now start my new Dometic on my Honda EU-2000 on propane.  No more having to haul gas around, no more gas smell. The A/C ramps up slowly instead of the hard surge now. Thank you Brian for all your help in installing this device, we can't wait to dry camp now. We used to worry about leaving our dogs alone with the A/C on while running on the Honda.  Now I don't have to worry about popping the surge protector when it cycles.
Ernie L
Giant improvement!
Installation was on a Brisk II. Before the install, Honda 2000 had difficulty starting the compressor on eco mode. After installation, the A/C starts and runs with the generator on eco mode. No more stupid thump and trailer shaking when the compressor starts. Installation was super easy, and I have never taken the cover off of my rooftop A/C before. If I can do it, anybody can. I highly recommend SoftstartRV!
Bill
This is terrific!
I bought the SoftstartRVand installed it in my Dometic15000 BTU A/C on my 5th Wheel! I was having a small problem wiring it and called the customer service line. Surprisingly, a real person answered. He explained the wiring process step by step. Thank you, My 2000-watt Honda generator started my A/C easily. A smart decision I made on getting this unit. Thank You!
Brian
Works Like A Champ!
Discovered right away coming to Florida that trying to run an air conditioner with a generator is impossible. It just kills the generator. So there we are sweating it out in, you know, a nice weekend, trying to enjoy everything and it's so hot. And now, with this AllStartRV installed in my trailer, I can hook my generator up and turn my air conditioning on anywhere and it works like a champ. It went in easy. I think the total install time was maybe 45 minutes, tested it out and it was flawless. And so I'm really happy to have this product and now I can enjoy a cooler time, and I can camp in those areas where I can get away from everybody and still be very, very comfortable.
Dennis H.
AllStartRV is specially designed, engineered and tested for all RVs: Motorhomes, Fifth wheels, campers, travel trailers, toy haulers, truck campers, vans, and tiny trailers. The AllStartRV reduces startup power demand by an amazing 70%. It's that good!
Special Offer

Normal Price: $329
Save $30 Pay Only $299
Risk Free 90-Day Money Back Guarantee Plus Free Shipping to USA and Canada
Save $60 On 2, Save $90 on 3, Save $120 on 4
Keep In Touch
Products
Support
About
Contact Us